About
Concept
A Center Destined for a Central Role
to Drive an Era of Creativity within All.

Kobe is a city in which people of all ages live, work and play. It is also home to a special place where everyone - whether child, teenager or adult - can gather together, converse, and create new things again and again. This place is the Design and Creative Center Kobe (KIITO).
From now on, building Kobe's future will depend not only on a select group of artists and designers but also on the ideas and devices born from interaction between different kinds of people of various generations. As this form of interaction grows and gains momentum, our citizens' attachment to their home city will increase, individuality will thrive and, before long, manifest itself in the economic improvement of Kobe. Both individuals and the city itself will become more creative with KIITO playing a central role to drive this dynamic.
In the near future, starting within Kobe's Sannomiya area, an unprecedented
attempt will be made to turn Kobe into a role model for urban development, both for Japan and for the wider world.
Destined to Become a Center for People, the City, and the World -
The Design and Creative Center Kobe
Key Word
+Creative
Design makes progress on the variety of issues facing Kobe's society through creative strength. The Center calls this process of enriching one's own life "becoming +creative".
Four Activity Policies
Make a place for practicing +Creative.
Cultivate +Creative leaders.
Make a place for +Creative exchange.
Disseminate +Creative information and networking.
Logo mark design: Bunpei Yorifuji
The essence of Design Creative Center Kobe can be found inside the various people pursuing their creative activities here. The Center aspires "to be a center for the people, the city and the world", an aspiration which I think is being realized by the people drawn to the Center and who engage in a wide range of creative activities with greater ease and freedom than they would enjoy elsewhere.
For this reason I felt that the KIITO logo mark should express the attitude that the Center is a place to support creative activity, rather than being a mark that merely symbolizes the "wishes" of those providing the place.
I also thought that the logo mark should be formed from a number of fundamental elements that can combine like building blocks in many different ways and acquire its meaning through people's creative ideas.
This logo mark should not be thought of as a tool to be used for 20th Century style "differentiation" or "manipulation of impression". It simply embodies the Design Creative Center Kobe's view of design and creativity. I would like the people who see this logo to gain the impression of its spirit, not from its shape, but from the "attitude" taken in employing a logo mark of this kind. That is my conception of the present logo mark design.
Facilities
The former 'Kobe Raw Silk Testing Center' (construction completion years: Old Building 1927, New Building 1932) was renovated and opened in August, 2012 as the 'Design and Creative Center Kobe'. Remembering the facility's original function as a place to assess the quality of raw silk, the new center has been nicknamed "KIITO", meaning "raw silk" in Japanese. It is situated in seaside of Sannnomiya, which is the center of Kobe city. The total floor space is 14,000 square meters and KIITO holds seminars, lectures, exhibitions, and events that feature emerging design and art. The Center offers meeting, gallery and event make progress on facilities for hire, and office spaces.

Message from KIITO
Takashi Serizawa, Executive Director of Design and Creative Center Kobe
I am convinced that our current times are on the verge of a major turning point. Not only within Japan, but all over the world, we are witnessing a succession of extraordinary problems many of which will not be solved using conventional methods. As such, I believe we need to re-examine our conventional approaches to addressing and tackling problems if we are to ever stride forth into a confident new future.
The physicist Dennis Gabor - widely known as the inventor of holography - famously said that we can "invent the future!" What we perhaps need to do now is to adopt a similar creative attitude under which we refuse to rely on so-called experts to solve our problems. Instead, we should express our creativity within the places we live. We should constantly seek to define the real joy of living and tackle the issues affecting our personal lives, our surroundings, and our society. I feel strongly that this approach is absolutely essential.
Design Creative Center Kobe was established here in Kobe, Japan, as a response to this need. The main concept behind the Center is to employ the human activity we call 'design' as a means to solving problems creatively. The discovery of solutions to social problems by introducing ideas and devices born of the interactions between various individuals is a process we have positioned as "+Creative". Under this process we pursue a wide variety of activities and publicize the results. In this way, Design Creative Center Kobe aims to be an open base that functions as a creativity hub.
Floor Map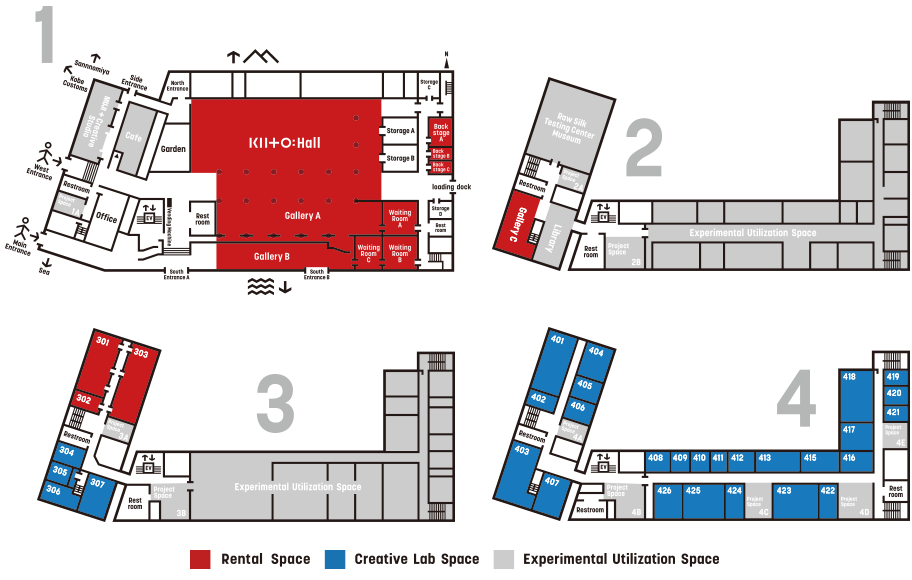 MUJI+ Creative Studio: This studio operated by MUJI (Ryohin Keikaku Co., Ltd.) carries out R&D, in collaboration with KIITO, in a wide range of fields that include disaster prevention, the environment, food, welfare, education, urban planning, and others. MUJI+ Creative Studio is also used for exhibiting the results of this R&D and for workshops.
Open Thursdays, Fridays, Saturdays and Sundays between 11:00 and 19:00
Cafe: This is a base for showcasing food-related projects. Visitors can also enjoy the food and drinks when events are held at the Center (as of January 2013).
Rental Space: The KIITO Hall, Gallery and Meeting Room are available for hire. If you wish to rent any of these spaces please contact the administration office on the first floor.
Raw Silk Testing Center Museum: The KIITO buildings were originally home to the 'Kobe Raw Silk Testing Center'. The Museum introduces the history of the original Center and its' silk testing methods through photographs, images and displays of actual equipment used at the time.
Library: This space houses a collection of free papers introducing the local art and design scenes of places across Japan. The Library also disseminates information on KIITO's current activities. Equipped also with a meeting area, this is a lively space fostering two-way interactive dialogue.
Experimental Utilization Space: This unique space, which has been maintained in its pre-renovation condition, can be used as a production or practice space for creators. It is only open to the general public on certain specified occasions. At all other times it is off limits to ordinary visitors.
Creative Lab Space: The office spaces on the third and fourth floors consist of 29 rooms available for tenants (as of January 2013). If you wish to inquire for tenancy, please contact the administration office on the first floor. ('Creative Lab' rooms are off limits to ordinary visitors.)
ACCESS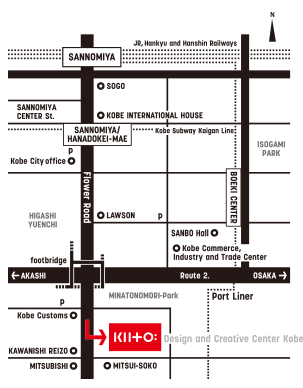 20 min walk south from Sannomiya Station (JR, Hankyu and Hanshin Railways)
10 min walk from Sannomiya Hanadokei-Mae Station (Kobe Subway Kaigan Line)
10 min walk from Boeki Center Station (Port Liner)
*The Center does not have parking facilities so visitors are requested to use public transport.